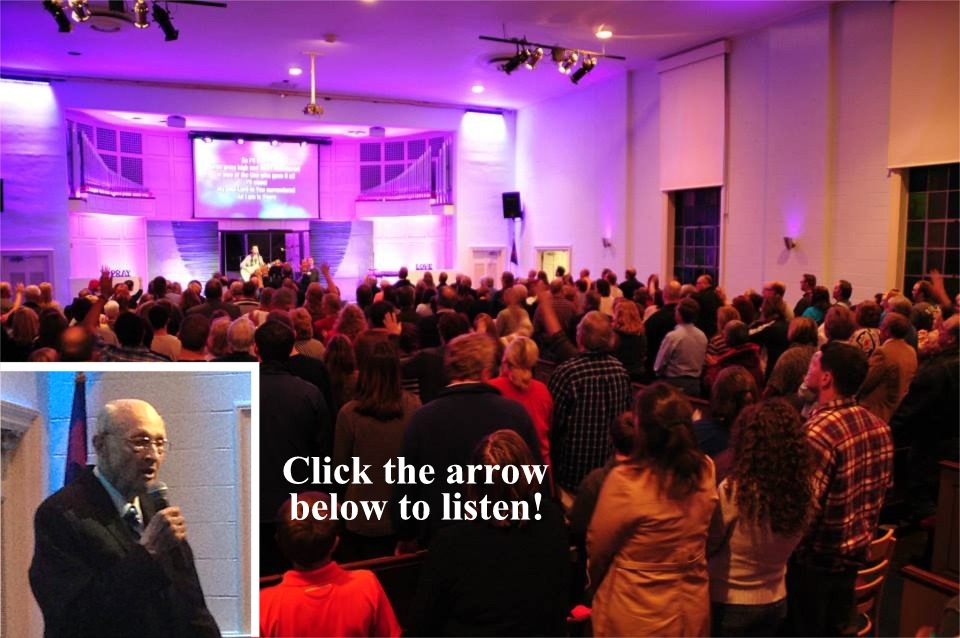 [NOTE:  Since getting out of the hospital, Dad has worshiped with us at 1on1 Church every night he's been able. The inset picture you see above is of him praying at 1on1 Church on the night we honored him for the 58th anniversary of Dial-a-Prayer. The picture of the congregation was taken on 1on1 Church's Opening Night.]
It was the Sunday afternoon of November 10, 2013. Judy and I were on our way to a grand old Evansville landmark at 121 Walnut Street to launch the first worship service of 1on1 Church.
But the joy of that moment was tinged with sadness. My dad so wanted to be there on this night of new beginnings, but he was in the hospital. Although time was tight, we just had to stop by St. Mary's to try to lift his spirits and pray for him. Little did I know what was about to happen.
As we talked with him, Dad's eyes got big. "Where did you say your new church is meeting?" he asked.
I told him.
"Oh, Son," he said, "that's where my parents were married! That was my very first church!"
Judy and I exchanged glances. Now it was our eyes that got big. I'm pretty sure our jaws dropped, too. We slowly shook our heads in a mixture of wonder and disbelief. What beautiful, heaven-sent confirmation. Thank You, Jesus.
Dad's face set in that look of determination I knew oh, so well. "I wish I could be there," he said.
"So do I," I said. "I was going to ask you to pray the dedication prayer."
He nodded. "I would have done it."
Suddenly, a thought occurred to me. I reached for my cell phone. "You still can, Dad," I said. "I'll record it on my phone – and tonight I'll play it for the people."
"I'll DO it," he said.
And did he ever.
He pushed himself to a seated position in the bed, body trembling. At first, I wasn't sure he was going to be able. Then he pulled himself together and fixed those blazing blue eyes of his on mine.
He was ready.
I held the phone near his face and he began. The first words of his prayer were halting, as he grappled with the momentous significance of what God was, at this very moment, doing in our lives. I'm sure it was also a struggle to overcome the strangeness of praying a dedicatory prayer from a hospital bed for a congregation he couldn't see.
But as his prayer continued, the Holy Spirit rose up within his frail, 87 year-old body and the power of God thundered forth.
Wow.
According to the front page newspaper account next morning, more than 300 people crowded into the Sanctuary that night. At the close of the service, I held my cell to the microphone and pressed "Play."
The room fell silent as Dad's prayer began. But it didn't stay that way for long. At his final, "Amen!" I'm not going to say there wasn't a dry eye in the house. I'm sure there were – but they probably belonged to the handful of people who couldn't hear over all the tears and sniffling.
I've kept that prayer on my phone ever since. Today, approaching the four-month anniversary of that memorable night, I pulled out my cell and listened to it once again.
It still gives me goose bumps.
No wonder the past 118 days have been packed with answered prayer after answered prayer…miracle after miracle! No wonder there is so much love in the room every time we meet.
Yes, we've all worked hard – sometimes around the clock. Hundreds of us have poured thousands of hours of prayer into 1on1 Church.
But all I can tell you is, there was one unforgettable prayer that was prayed from a hospital bed on that first night that God is still answering again…and again…and again.
Thanks, Dad.
And thank You, Jesus.
_______
Stephen Schwambach, Pastor
Scripture taken from the HOLY BIBLE, NEW INTERNATIONAL VERSION®. NIV®. Copyright© 1973, 1978, 1984 by International Bible Society. Used by permission of Zondervan. All rights reserved.