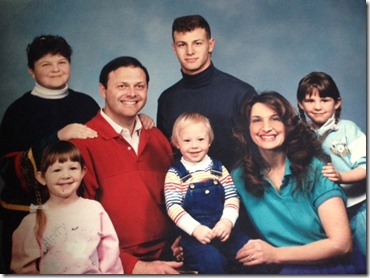 This picture was taken about the time in our family's life of the incident described below. Beki is standing in front of me, bottom left. Tabitha is standing behind me, hands on my shoulders. Pete is standing behind. Abe is sitting on my knee. My lovely Judy is seated on the other side of Abe. And Abi – my daughter who was married on Valentine's Day 2014 – is in pigtails, standing far right. Sincere apologies to our youngest daughter Ariel, who wasn't yet born!
_______
Ever since I met Judy, I've loved Valentine's Day. But the meaning is now doubled: Today is my daughter Abi's wedding day! Wow. Growing up, she was such a daddy's girl – brushing her teeth at my sink while I shaved…running to sit on my lap…countless hugs…always wanting to hold my hand when we walked.

I began writing out the Bible the year she was born. Took me 12 years to finish it. So many nights she would grab her pillow, stretch out her sleeping bag on the floor beside my chair at the kitchen table and fall asleep listening to me read aloud while I wrote.

One night it was so late and I was exhausted. I fell into bed, telling myself I'd write twice as much tomorrow. Just as I was drifting off to sleep, I heard a little girl's voice. It was Abi, standing beside my bed, her voice broken.

"Daddy – aren't you going to write out the Word?"

Only, in her little girl's voice, this is how it sounded: "Daddy, auhn't you gonna wite out da Wood?"

Good grief. I pulled back the covers, climbed out of bed and padded into the kitchen, where she had already spread out her pillow and sleeping bag.
Thanks to a precious little girl who's always looked up to me and believed in me, I stayed faithful that night…and wrote out the Word.

A couple of days ago, she asked if I would honor her tonight with the traditional father-daughter dance. I'm no dancer, but I said sure, I would. Then she told me the name of the song she had selected for the DJ to play: the Temptations' "My Girl."

It's playing in the background now, as I write this. Based on the tears streaming down my face, I'm sure I'll do fine. Piece of cake.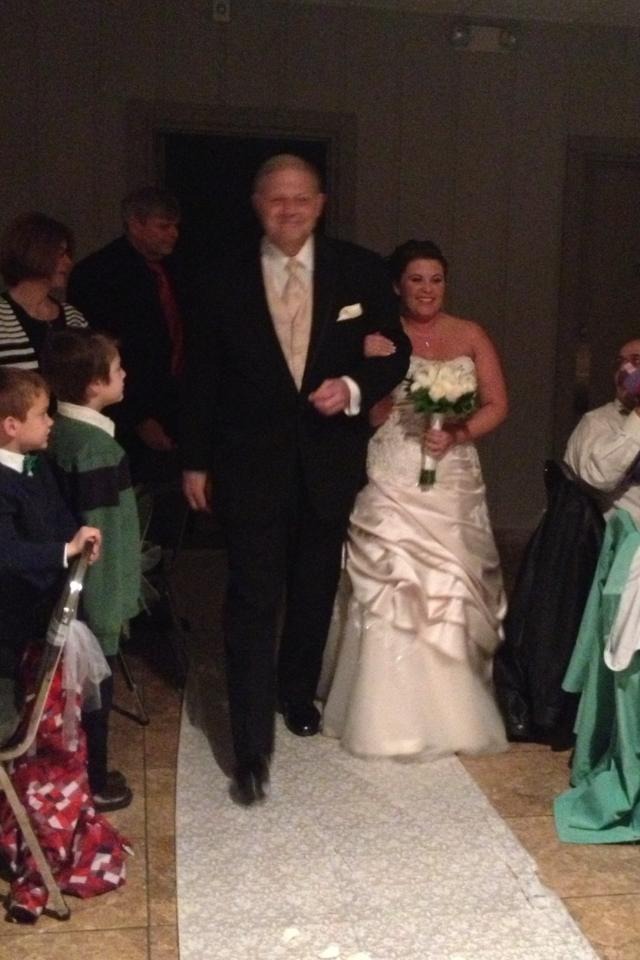 The big moment.  I'm walking her down the aisle.  See that smile on my face?  It didn't last long.  Right after this picture was taken, my lips began to tremble.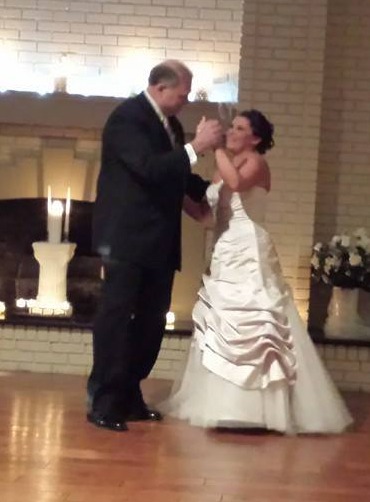 The father-daughter dance.  "My Girl" is playing and the memories are flooding.  Every time my eyes started to tear up, Abi shook her head and said, "No.  Stop."  She knew if I started, she would soon follow.  Somehow I managed to choke back the tears and just savor this exquisite, bittersweet, precious moment.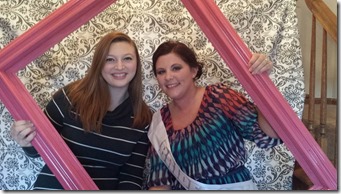 Okay, making it up to our youngest daughter Ariel with this pic, taken at Abi's bridal shower. Ariel on the left, Valentine's Day bride Abi on the right.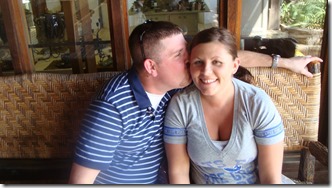 Brian Williams – the young man who become our son-in-law on Valentine's night, with Abi. This was taken a few weeks before the wedding.  Not sure what he's doing, here. Oh – whispering something in her ear. Yeah. That's it.

Abi and Brian exchanging vows.  See that big smile on Abi's face?  It didn't last long, either.  While reciting her vows to Brian, she choked up and couldn't speak for twenty minutes.  Well, maybe it only felt that long!  It was probably more like twenty seconds.  But I loved that this strong, independent  young woman was overcome with emotion over the profound, life-changing importance of the promises she and Brian were pledging to one another…before God.  What a beautiful, beautiful night.  Always to be cherished and warmly remembered.
Scripture taken from the HOLY BIBLE, NEW INTERNATIONAL VERSION®. NIV®. Copyright© 1973, 1978, 1984 by International Bible Society. Used by permission of Zondervan. All rights reserved.